To select the right hosting is the first baby step to your successful online career.
Being a beginner, selecting the right hosting service is critical as well as a headache!
Tips to Select the Best WordPress Hosting in 2020
There are some basic factors based on the cPanel, software, security, WordPress optimization, MySQL version, PHP version and so on. But prior to sharing the list of top WordPress hosting providers, it is important to check the official requirements required to run WordPress's software in any hosting environment.
Technical support is the major factor to consider. For your information, WordPress requires lot of memory along with a database and PHP. The common error such as a blank homepage, "500 Internal Error", or all posts being deleted are some of the issues that you might face with poor hosting service.
Check the below factors that you should consider while selecting a WordPress host:
Value for money: Many WordPress hosts offers similar features but charge 2X-3X without any reason. Features such as a free domain, free SSL, CDN, support, and a few others are some of the impelling factors.
Speed: Today, all want to have great speed for their websites. You can't expect a blazing fast speed, if the hosting environment isn't optimized for WordPress.
Uptime: Uptime is another big factor to consider while comparing with industry standard. If there is anything below industry standard, it has been discarded. So, always check if the hosting company offers you at least 99.9% uptime guarantee.
Response time: When you contact the hosting provider, their team should respond you quickly. So, if you get an answer within 200ms, it is good. Ensure that the response time is high under the stress test.
For instance, are the resources provided enough for you to host a medium server site o are you hosting a high traffic site that will need more resources? Is there a limit in terms of bandwidth, and is it possible to handle occasional or frequent traffic spikes?
Another important factor is geographical location for two reasons: Speed and Latency. There is a direct correlation with load time for your idle customers and visitors.
5 Best WordPress Hosting For All Types of Businesses
Instead of sharing a big list of top 10 WordPress hosting services, this article mentions the hand-picked web hosting companies selected based on their features and pricing.
So, let's check the list of the recommended WordPress hosting providers:
MilesWeb
Uptime: 99.95%
Support: 10/10
MilesWeb Server location:
• U.S.A
• U.K
• India
• Singapore
• Australia
• Canada
MilesWeb was established in 2012 and is loved due to their customer support. They are instant in offering support to their customers. They keep on adding new features and one of the few hosts that offer PHP 7.
Their in-house caching tool helps in improving the speed of the WordPress blog. Additionally, the GZIP/Broli compression is included in all their WordPress hosting plans and helps in improving the delivery time for sites of all sizes.
Cheap Managed WordPress Hosting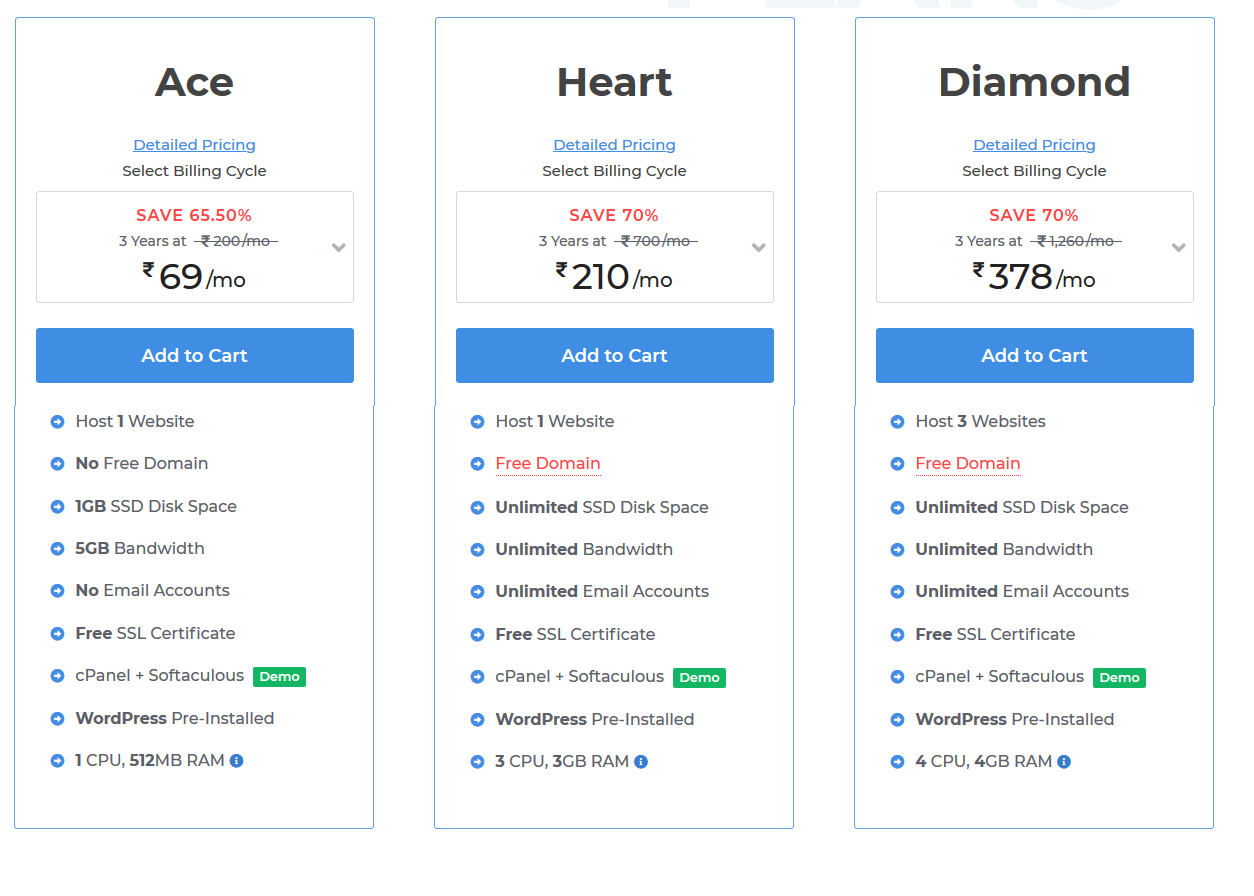 Features of MilesWeb:
• Fully Managed WordPress
• Free WordPress Migration
• Intel Xeon processors with SSD storage and hardware RAID 10
• Automatic WordPress Updates
• Fast Provisioning
• Secure Email
• Cloudflare Railgun
• SFTP Access
• WP-CLI
• Dedicated WordPress Support
• CDN
• Cloning
• Server-side Optimizations
• 30 Day Money Back
• 99.95% Uptime
It means you get an excellent value for money, especially for beginners and bloggers. MilesWeb also offers WordPress cloud hosting option with high-speed and reliable virtual cloud servers.
Bluehost
Uptime: 99.99%
Support: 5/5
Server location: U.S.A & India
Bluehost is the next top choice for starting a new WordPress site. The company was started in 2003. They allow you to buy one hosting package and host multiple WordPress websites on it.
They offer the best hosting for WordPress and their hosting plan currently start at only $3.95/month for the first year and comprise of unlimited bandwidth and storage.
Their servers are well-optimized so that they can run WordPress blogs and also, enable WordPress installation just within 4-5 minutes.
WordPress Hosting Plans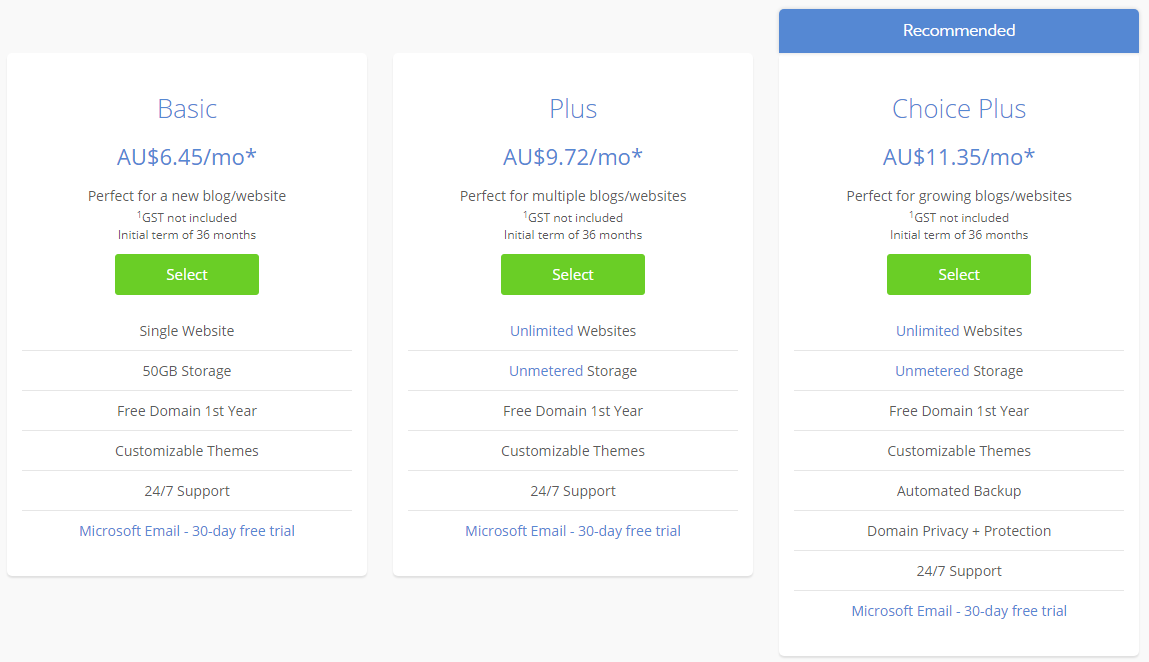 Bluehost WordPress Hosting Features:
• Optimized server for WordPress
• Unlimited Websites
• Unlimited bandwidth
• Unmetered SSD Storage
• Free SSL
• PHP 7.0
• Free domain name (for 1 year)
• 30 day money back guarantee
• Automatic WordPress Installation
• Microsoft Office 365 available
• Automatic WordPress Updates
• Secure Configuration of Login Credentials
• Get Verified on Google My Business
The best part for beginners with Bluehost is that they can host unlimited websites under their selected package.
Inmotion Hosting
Uptime: 99.9%
Support: 5/5
Server location: U.S
Inmotion Hosting was founded in 2001 and is based in U.S.
Customers love them for their superior support quality. In case you are finding a hosting which is native American, you can opt for Inmotion Hosting. They offer different types of hosting and unlimited bandwidth as well as storage.
Additionally, you also get a free domain name and free website migration. Are you tired of the current hosting downtime? Then InMotionHosting is a complete value for money for you.
WordPress Hosting Plans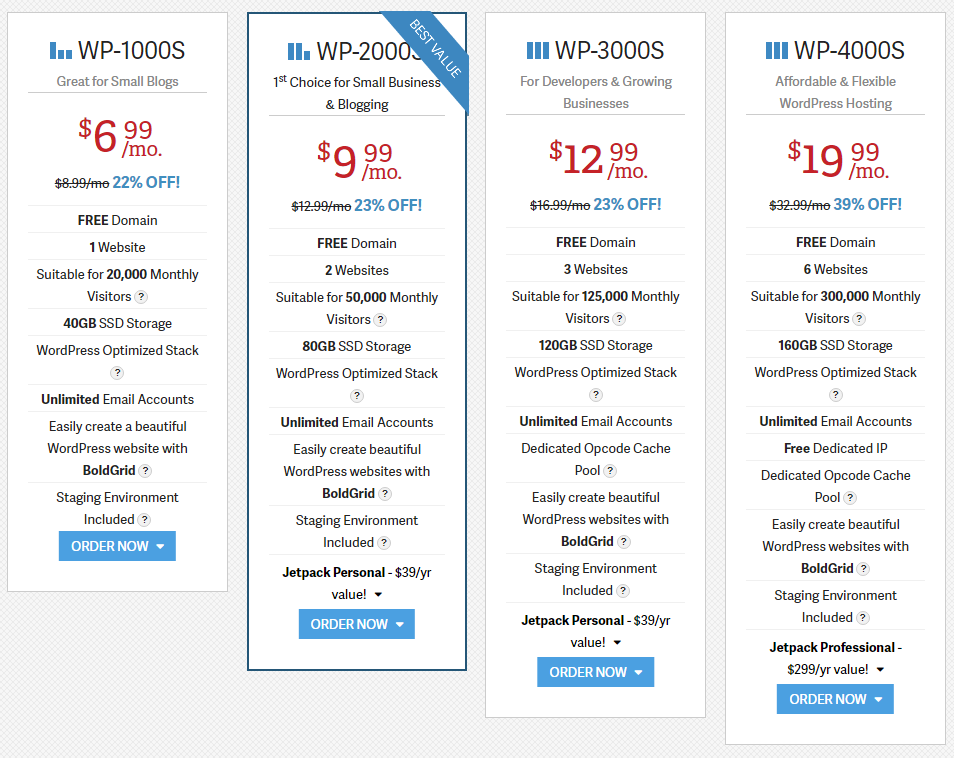 InMotion Hosting WordPress Hosting Features
• Free Domain Name
• Free SSL
• Free Website Migration
• 200+ Free WordPress Templates
• Ultimate Performance
• Preinstalled & Ready WordPress
• Use Any Plugins
• 90-Day Money Back Guarantee
• Upgrade Safely
• Drag and Drop
• Launch under an hour
• Fully Supported
In case you are targeting international audience, Inmotion Hosting is the best for you.
Verdict
Hope that this list of 3 best WordPress hosting providers will help you find the one that best suits your needs. But as per my preference, MilesWeb offers you all the features needed to host your WordPress website as they offer managed WordPress hosting and take the complete responsibility of managing servers on them.