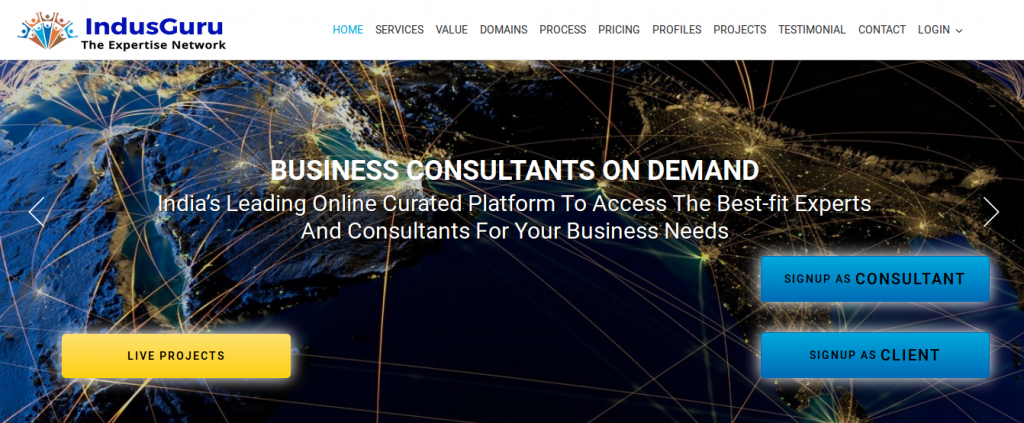 About This Project
Indusguru – Operations And Marketing
Indus-Guru is India's leading Online Curated Business Network, to identify and engage business experts and consultants to help enhance your organizations growth and performance
IndusGuru enable association to locate the best-fit business master, for their basic here and now assignments and extends, and encourage the procedure of choice and engagement.They enable business specialists to locate the best chances to apply their experience and ability and will assemble a stage and system for distributed learning and expert advancement.
Project background
The site was required for giving e-learning administrations online to understudies. A quick stacking, mobile responsive e-learning E-Commerce entrance with simple memberships and enlistments.
The solution
The underlying stage incorporate the choice of formats for outlining of Web site.for planning of site we utilized the innovation, for example, HTML5,CSS3,JAVASCRIPT. Subsequent to planning of site we have to do Web Development, for example, interfacing the front end and back end. For this the innovation utilized were Asp.net,MsSql.
The second period of site joined, Creative substance essayists, to nourish in the organization data pages like About us, Company Profile, Displaying items under important classes with effective information and pictures, websites, get in touch with us, setting up of Google maps, Google examination.
The last stage included, SEO, for example, On page Optimization and Off Page Optimization.
On Page Optimization incorporates viable substance composing for site to enhance positioning of site.
Off Page Optimization incorporates bookmarking, RSS,directory submission,local reference.
The results
Our work with IndusGuru had provided us a good knowledge of requirements of client and consultants.The project took 6 months along with Web design and development.Content Writing and SEO for better ranking of website.
Web services offered:
Web Design
Elearning portal development
Custom Asp.net Application Development
Content writing
SEO
Technology used:
Asp.net
HTML5
CSS
Javascript
MsSql
See the website live